IHS Results of New Small Overlap Frontal Crash Test
Only 3 of 11 midsize luxury cars evaluated earn Good or Acceptable ratings
Volvo S60 ties Acura TL for top rating of Good
Volvo S60 achieves top structural rating of all vehicles tested
In IIHS's Small Overlap Frontal test, 25 percent of a car's front end on the driver side strikes a 5-foot-tall rigid barrier at 40 mph with a 50th percentile male Hybrid III dummy belted in the driver seat. The test is designed to replicate what happens when the front corner of a car collides with another vehicle or an object like a tree or utility pole. Outside of some automakers' proving grounds, such a test isn't currently conducted anywhere else in the United States or Europe. IIHS states: "Nearly every new car performs well in other frontal crash tests conducted by the Institute and the federal government, but we still see more than 10,000 deaths in frontal crashes each year," Institute President Adrian Lund says. "Small overlap crashes are a major source of these fatalities. This new test program is based on years of analyzing real-world frontal crashes and then replicating them in our crash test facility to determine how people are being seriously injured and how cars can be designed to protect them better. We think this is the next step in improving frontal crash protection."
S60 is one of only two models tested receiving a Good rating. S60 achieves the best structural result of all vehicles tested
The S60 achieved an overall rating of Good and was on of only two vehicles tested to achieve this rating. Some excerpts from IIHS's Press Release include:
The Acura TL and Volvo S60 earn good ratings, while the Infiniti earns acceptable

The Acura TSX, BMW3 series, Lincoln MKZ and Volkswagen CC earn marginal rating

The Mercedes-Benz C-Class, Lexus IS250/350, Audi A4 and Lexus ES350 earn poor rating
All of these cars are 2012 models.
Structurally, the Volvo S60 was best. With only a few inches of intrusion, the occupant compartment looked much the same as it did in a moderate overlap test. Reinforcement of the S60's upper rails and a steel cross member below the instrument panel helped to keep the safety cage intact. Volvo has performed similar small overlap tests as part of its vehicle safety development process since the late 1980s, taking the results into account when designing new models.
Survival space for the driver wasn't well maintained in the Lexus IS crash test. The A-pillar bent and the footwell collapsed as the left front wheel and tire were forced rearward. The dummy's feet were entrapped by intruding structures. Results for the Volvo S60 were very different. The S60's occupant compartment held up well, with only minor intrusion. The Lexus IS had up to 10 times as much occupant compartment intrusion as the Volvo.
Overall ratings for the 11 midsize luxury cars tested: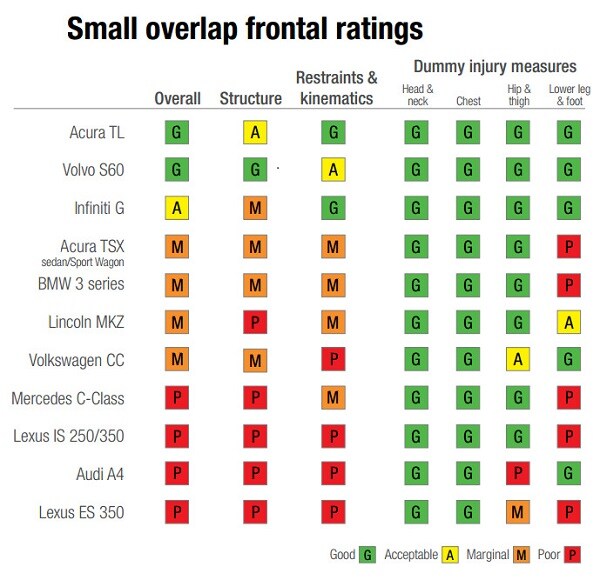 When we built a great sports sedan we built a Volvo first.
We are very proud of S60's performance in this very difficult test. This is a result of Volvo's ongoing philosophy of building cars for real world. To quote IIHS:
"Volvo has performed similar small overlap crash tests as part of its vehicle safety development process since the late 1980s, taking the results into account when designing new models."
Contact Volvo Cars of Fredericksburg today to schedule a test drive of the IIHS top-rated Volvo S60